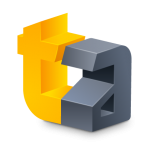 Yesterday we announced all of our GDC plans including a party sponsored by Jam City! If you're going to be in San Francisco, we'd love it if you came out. The party is going to be at Bin 55 which is the hotel lobby bar of the San Francisco Marriott Marquis. It's a great space, as the massive lobby area allows for loads of room to mingle without being super cramped. The party kicks off at 7:00 PM on Wednesday, March 21st and runs until last call. (From there, usually there's a contingent of folks who wander off to Denny's to keep the party rolling.) Jam City will be giving out a limited number of drink tickets, have a prize wheel, and other fun stuff like GDC themed cocktails. You don't want to miss it.
TouchArcade tradition is if you're coming to our party, you should bring stickers to trade with other developers of your game icon. The preferred place to get these printed is Sticker Mule as their 2" x 2" rounded corner sticker is about perfect for immediate printing of your icon art. Of course, you don't need to bring stickers, folks have just mentioned it makes for a fabulous ice breaker! I cannot stress enough how much I enjoy our GDC parties, we don't do any kind of invite list, and everyone is welcome, so the crowd often skews towards scrappy indies who aren't able to get on any of the lists of other invite-only parties... Which I absolutely love! That level of inclusivity is what we're all about. If you make or play mobile games of any kind, you're welcome!

Anyway, this year we gave TouchArcade Patreon supporters first crack at booking meetings with us, and there's still plenty of room in the schedule for everyone else! Like every GDC, we're specifically looking for people to book meetings with us who have new, unreleased games or significant unreleased updates to existing titles. If you've got something to show off that you're comfortable with us recording video of, mash this link, choose a time, and fill out the form to book a meeting with us. We don't care how early along your upcoming game or update is as long as you don't care if we share it with our readers.
For everyone else who just wants to meet us, talk about a game that's already released, or whatever else, just come to our party! We'll be there!
Again, to recap:
GDC Appointment Information:
-If you have an upcoming game or unreleased update we can shoot video of book an appointment here.
-If you don't have a unreleased upcoming game or update, come to our party!
GDC Party Information:
-Where: Bin 55
-When: 7:00 PM on March 21st until last call.
-Why: To trade stickers from Sticker Mule and to drink free drinks graciously provided by Jam City (while supplies last)!
Last, but not least, Jared and I will be on Train Jam this year so if you're also going to be on the train we'd love to hang out! We'll have loads of time to drink expensive train beers, play Switch, and chat mobile games (or whatever else)!
from TouchArcade http://ift.tt/2oSM65e